How to choose a training Institute ?
Welcome from Virginie and Philippe Vernois
Psynapse is before all, a state of mind, a warm Institute with a deep human dimension. Theoretical and practical learning is done within small groups, under the supervision of Trainers, who are experts within their fields. Psynapse is a learning place for anyone wishing to become a Coach, a Hypnotherapist, a practitioner in brief therapies or an NLP practitioner.
The values of Psynapse can be found in its motto « Persevering in Excellence », because excellence must be, at the heart of Therapy and the transmission of knowledge.
See our additional training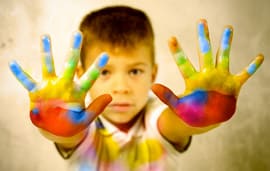 Hypnosis as a whole is an integral part of a child's world that likes to imagine, dream or pretend. In this Hypnosis training it is possible to say that children are easy subjects, because of the way they see the world. They have imagination and creativity.
It is the combination of Hypnosis and Coaching, in order to achieve predefined objectives. Hypno-Coaching facilitates the acceleration of professional skills and increase your personal confidence. Hypno-Coaching is a way of structuring and allows transformation.
The Institute of Hypnosis and NLP, Psynapse is a centre for training and research. Our trainings train professionals. The main orientations are Hypnosis and NLP. Our Psynapse Institute also offers systemic and integrative brief therapy trainings.
Our various levels of Ericksonian Hypnosis, Neuro-Linguistic Programming, and Short Therapy courses, tackle a set of integrative and systemic concepts that set hypnosis and similar techniques at the heart of communication. Accompaniment professions that we can find in the world of brief therapies and more specifically in the world of hypnosis, are a new way of reconsidering determinations of goals, problems and solutions or paths of improvement, in therapy or hypno- Coaching, life coaching.
At our Ericksonian Hypnosis and NLP training Institute in London and through various cities in the UK, Virginie and Philippe Vernois are delighted to offer you professional trainings of high quality. Our certificates in specialized learning, are certified and approved, our references are serious; Our courses require active participation with a high sense of sharing, listening, accepting and understanding.
Our trainers ask trainees to have a sense of profession, a creativity that fits into specific ethics, for the profession of Therapist, Practitioner, Psycho-practitioner, Hypno-practitioner and Hypnologist. At the end of the learning curriculum, personal ethics as a practitioner, trainer or supervisor in the professional setting of the accompanying and similar sciences, is strongly recommended.
Your life coaching, your professional projects, your achievements.
When you are a trainee in Hypnosis training, you will begin to use linguistic techniques specific to the Ericksonian language. You will gradually learn how to speak fuzzy language or the language of confusion, in order to elaborate metaphors. By learning this know-how, you will also quickly progress within the realization of your personal and professional projects because you will know a better way to communicate with your interlocutors.
The mastery of the Ericksonian language will make you evolve personally as long as your activity grows. The activity of your personal business will quickly elvove because you will be able to better understand linguistic mechanisms. Hypnosis trainings will give you the secrets of an excellent communication strategy. Nevertheless, therapeutic ecology, integrity and ethics will be applied throughout your teachings.
Once you have identified your improvement points to work on, you will only need to understand the use of hypnosis techniques to reuse them on yourself in self-hypnosis. Knowing how to do hypnosis on a third person, implies that you can also practice hypnosis on yourself. You will thus be able to increase your abilities to know how to use your skills, revealed by your previous hypnosis sessions. You will succeed in being an effective Ericksonian communicator while being a dynamic and confident person.
Hypnosis will gradually give you the opportunity to change the negative sides of your life to ultimately achieve the life you've always been dreaming of. By practicing hypnosis, you will find that you can change much more than you could have ever imagined.
By using hypnosis, you will be able to better understand others and to better understand their problems, you will notice with amazement that challenges fixed are easily attainable by way of hypnosis.
Hypnosis is an ever-evolving field of activity, the most current research goes beyond what the world of psychotherapy could have imagined. The world of hypnosis is fascinating by the multiple applications that can arise from it.
In Paris, our training centre is also a centre for research in Hypnosis, it is not limited to current theories but also to develop its studies, reflections and teaching, through a spirit of openness. Our main models are the Palo Alto School, Milton H. Erickson, David Quigley, Dave Elman, Michael Newton, Edith Fiore. Many therapeutic protocols or intervention tools for brief therapy influence psychology, as well as learning modes. Unconscious learning mechanisms can be improved through effective routines that change our behaviours and the way we learn.
In countries carried by alternative therapeutic techniques, hypnosis has entered into multiple sectors of activity. Schools use techniques derived from Ericksonian communication, some hospitals use hypnosis before each surgical procedure. The anaesthesiologists do not hesitate to improve their actions by hypnotic inductions which make it possible to improve the duration of the physical recovery. The reception of clients in medical practices is facilitated by a so-called hypnotic communication. This communication is conducive to relaxation and facilitates human relations. The subjects will live this altered state of consciousness only through language, it is conversational hypnosis. This powerful language makes it possible to handle difficult situations. Hypnotic techniques sometimes lead to a state of deep hypnosis; hypnosis can be comparable to the state of sleep which makes it possible to bring an intense feeling of well-being.
The Psynapse Team is made up of therapists, people passionate about Psycho-Therapy, Brief Therapies, Hypnosis and NLP, as well as different approaches of Psychology and Philosophy. This multidisciplinary team will advise you and answer your questions. You can also ask to receive an invitation to our Tuesday evening events to find Psynapse trainers and teachers.
Hypnosis and Subconscious:
Hypnosis is a communication technique that stimulates the recovery of potentialities, helping resources. These internal resources are part of the learning field, set up by mimicry since our early childhood. Our survival mechanisms, vital processes are also part of our capital resources. To initiate change, this fundamental potential, needs to be updated, adjusted and adapted to our current needs. Small childhood trauma sometimes stops the learning process to prevents us from overcoming some of our mental and psychological limitations. Hypnosis opens the door to new ways of understanding future challenges. The subject deconditioned by hypnosis no longer replays repetitive scenarios and regains confidence thanks to the power of the unconscious, as well as more freedom and more choices.
Hypnosis will allow you to unblock situations of stress due to fear of communication, fear of public speaking, fear of being able to convince and succeed. Your personality with hypnosis will be able to be strengthened, to allow you to be in harmony with your own self and your own environment. Each point of improvement you may have raised, will be able to be treated through hypnosis.
Hypnosis has the particularity of proposing flexible and adaptive procedures and the subconscious of the subject will find solutions best suited to the problematic situation. The subconscious is an inexhaustible source of resources. The most knowledgeable people are turning more and more towards hypnosis. A new audience appears, preferring a simple, effective way of therapy that does not require to relentlessly raise problems of the privacy. The therapeutic methods of hypnosis, transmitted by supervised therapists-trainers are extremely effective in practice.
Medical professions and related occupations, as well as psychotherapists and therapists enjoy any applications that hypnosis offers. Whether hypnosis is the result of the traditional practice of therapy or it is used in a medical environment, it is enriched by multiple contributions to solve many problems.
Although hypnosis is based on rigorous rules, Ericksonian hypnosis practitioners must adopt a specific position (position of short therapy) that is predisposing to some measured interventions. Milton Erickson who gave his name to the Ericksonian Hypnosis, did not have a conventional attitude toward the problems submitted by his clients. He returned instantly to their own worlds by encircling the potential therapeutic orientations. Hypnosis was for him a predisposing condition to the integration of a learning, whatever the message to understand and to assimilate unconsciously.
Training Hypnosis and constant evolution:
Many experienced therapists treat their clients' problems through hypnosis and advanced hypnotic techniques because it is a natural way to allow change. At the end of some sessions, Ericksonian hypnosis therapists usually give job prescriptions. These prescriptions should be completed between two treatment sessions. Often, hypnosis, in the form of self-hypnosis may be the first time, and with the help of a confirmed psycho-therapist, practiced outside sessions so that subjects can regain some control over their fears and their undesirable behaviours. Short Therapies have the distinct advantage of not creating a therapeutic dependence that would be unconstructive within the context of therapeutic resolution.
The Ericksonian hypnosis has the peculiarity of allowing direct access with the unconscious. A dialogue between the hypnotist and the hypnotized unconscious is set in motion to initiate the hypnosis session. This very Ericksonian dialogue is based on the awakening of another facet of ourselves. Hypnotic behaviours are manifested when we are in particular states of deep reverie, dynamism or intense concentration, when we are led, even without hypnotic induction, to implement automated behaviours. Hypnosis never ceases to reveal the human being in its beauty and complexity. We are in turn sometimes protected, sometimes conditioned by our subconscious. With this neurological knowledge, hypnosis offers us an unlimited field of investigation.
Ericksonian hypnosis enthusiasts use the therapeutic protocols of hypnosis to improve their daily lives. Whether it is waking up in the morning, staying dynamic throughout the day or at night to be able to prepare to have a good restful sleep. The techniques of hypnosis and brief therapies remain accessible and can be applied in practice, in healthcare settings or in institutions. These are communication techniques based on a linguistic approach, the main tool of therapy being the practitioner himself and his ability to take this reality into account.
Hypnosis and Modelling:
Hypnosis certainly includes a set of protocols but it requires a therapeutic attitude that can be easily modelled. Milton Erickson, psychotherapist and psychiatrist who has been modelled by Richard Bandler and John Grindler, followed by a generation of young American therapists such as Jeffrey Zeig, Betty and Elisabeth Erickson (daughters of Milton Erickson), Anné Linden, Ernest Rossi, Stephen Gilligan, Jay Haley. Subsequently, other therapists from this movement could in turn be modelled such as Bill O'Hanon, Steve and Connirea Andreas. This principle of modelling resulting from NLP techniques, has allowed an extraordinary growth of hypnosis, therapy and life coaching, personal coaching or hypno-coaching.
In the United States, hypnosis is still growing. In Germany, France and England, hypnosis has gained the field of European therapy for thirty years. As new inputs are added, many therapists trained in the new techniques of short therapy such as hypnosis are helping to publicize infinite possibilities of the world of hypnosis.
In case you would like to know more about the applications of hypnosis and know what hypnosis can do for you, do not hesitate to contact the Psynapse Team at 09 72 26 91 25.
During our discovery days within the different cities of England… you will have the opportunity to meet the founders of Psynapse: Virginie and Philippe Vernois, outstanding therapists.
At our free-of-charge Ericksonian hypnosis or hypnosis NGH (National Guild of Hypnotherapist) conferences, you can discover an exciting universe, a world of possibility and creativity. You will see how your daily life could be more enjoyable, enhanced by effective hypnotic techniques that can become yours. Your ability to let your internal resources emerging, will be released, your behaviours will be more suited to the different situations you will encounter. You will learn faster and with more pleasure, because hypnosis is part of the way we learn. You will think in a better way and more clearly. You will become aware of how your subconscious works, how you can bring out the unconscious resources within your surroundings.
The evening conferences about hypnosis, will make you travel within the heart of our inner wealth and those of others. Evening dates are available in our Events section. During the conferences evenings you can ask your questions about the training we offer; You want to become a therapist, hypnotherapist, psycho-practitioner, psychotherapist, master practitioner, or simply to enrich your knowledge, you will find vocational and certifying trainings (international certifications).
Certified hypnosis training courses are held in London, inside our Psynapse premises, spacious and adapted to the needs of training in therapy. You will find our training courses in hypnosis nearest to you. Do not hesitate to meet us anywhere in the UK via the major cities Birmingham….
Psynapse certified Hypnosis training is provided by our certified instructors who are able to provide you with the most effective therapeutic methods. Psynapse guarantees quality for our Ericksonian hypnosis training and an excellent reputation throughout the field of psychotherapy and helping relationships. Psynapse is committed to make you evolve free once you have been trained in hypnosis, whatever the initial level chosen: technician, practitioner, master practitioner and trainer in hypnosis. Psynapse, is a training institute that is concerned with therapeutic ethics and adheres to the quality standards required by the French Federation of Hypnosis and Therapies.
Accredited by the FFHTB: Psynapse London, WC1B 5BH, Ericksonian Hypnosis Practitioner training level and Certified Trainers. Psynapse Birmingham, Ericksonian Hypnosis Certified practitioner training. Psynapse (other cities), certification at the level of the Practitioner and Master Practitioner for Ericksonian Hypnosis.
Get some trainings for Hypnosis or NLP by certified Psynapse trainers. Psynapse, the Leader for Institute of Brief Therapy in the UK.
There are many Ericksonian Hypnosis training centres, but you shall require the seriousness, professionalism and skills of the Psynapse Training Institute. This vocational training centre, also an expert in Integrative Brief Therapy and Systemic Brief Therapy, is a pleasant and safe place.
Knowledge is circulated and transmitted in the utmost respect of the human being. The learning is gradual, courses are exciting and intense, people emerge at the same time grown and rich with a know-how within human dimensions, that is not negligible when making the choice to turn oneself to others.
Virginie and Philippe Vernois, Psynapse's founding certified teachers, are watching over this Psynapse state of mind and this quality of learning. At Psynapse, what makes the difference beyond excellence, it is passion and authenticity. Psynapse, an Institute at the heart of therapy, at the heart of brief therapies.
Enjoy even more by going on Certifying hypnosis training to find out how far you can go in hypnosis.
How to choose excellence?
What are the references of your trainers and teachers in hypnosis and brief therapy? Are their certifications internationally recognized?
The two major International Federations in NLP are: IN and Society of NLP. These two big federations are present all over the world. They have similar levels of requirements. These federations were created at the initiative of John Grindler and Richard Bandler, founders and inventors of NLP. Please, ensure that the international standards of the IN or the Society of NLP are respected. Certified teachers who claim to be certified in NLP and Hypnosis must have completed the course.
What are therapeutic orientations of the school you have chosen?
If you choose NLP training, Ericksonian Hypnosis training or Systemic Brief Therapy or Integrative Brief Therapy, make sure your school is oriented. NLP and Ericksonian Hypnosis are short-term therapies from the Palo Alto School created in the 70s. Composed of American academic researchers from the city of Palo Alto, California, the so-called Palo Alto School, takes shape with the great names of therapy such as Virginia Satir, Jay Haley, William Fry, John Weakland. Brief Therapy originated from the fundamental work of Gregory Bateson (1936). The approach of Brief Therapy is resolutely pragmatic because it takes into account only what really works, the principles being built from clinical findings.
Take into account, certification levels. At the level of the American federation IN or Society of NLP, there are 3 levels of certification:
NLP Practitioner, NLP Master Practitioner and NLP Trainer, Hypnosis levels are an integral part of the IN certification. In terms of hypnosis certification, the NGH is one of the oldest and most internationally recognized federations within the United States, it brings together the largest representatives of direct hypnosis.
What are the criteria for obtaining certifications?
Is there an exam of the therapeutic practice, during the Hypnosis and NLP trainings? Is there a general exam of the theoretical knowledge and therapeutic principles on the Practitioner and Master Practitioner levels? Who will be your supervisors during and after your certification? At Psynapse, for example, knowledge is checked continuously: during training, throughout the course, at the end and after the training, the trainee is accompanied in his learning process.
Is the revision of modules or courses in Neuro-Linguistic Programming (NLP) or Ericksonian Hypnosis possible during the 5 years following your training?
At Psynapse the revision is free, it is important not to lose those tools and continuing to progress and learn.
Are the programs of hypnosis, NLP and brief therapies regularly enriched?
Brief therapy is not a fixed science. Neurological and clinical discoveries are making therapeutic concepts evolving, at any time.
What is the atmosphere in hypnosis training or NLP training? Are your trainers passionate about the topic?  At Psynapse, learning takes place in a benevolent atmosphere, stimulating self-respect and respect for others. Our trainers are all enthusiasts.
Are the training groups above 15 people?
Is the transfer of skills materially possible? Is your success the goal of your school? Beyond a number of participants, it is proven that it is difficult to be truly in the transmission of professional know-how. In therapy, it is essential to privilege practice, knowledge passes through experimentation. At Psynapse different learning techniques are put into place so that everyone can integrate knowledge at their own pace.
Are therapeutic NLP / hypnosis and theory a good balance?
Take into account the duration, the periodicity, the quality of the school, the coherence of the programs. In case of doubt, it is preferable to refer to the requirements of the founders who have set international standards.
Compare Value Added Training Programs Hypnosis, or NLP Training on:
The first levels such as:
Training of hypnosis technician, and Training of NLP technician.
Hypnosis Practitioner Training and NLP Practitioner Training.
Higher levels with:
Training of Hypnosis Master Practitioner or NLP Master Practitioner
Training of Hypnosis Trainer or Training of NLP Trainer.
Compare the value-added of programs in strategic therapies, family therapies or couple therapies:
Psynapse offers Systemic Brief Therapy and Integrative Brief Therapy trainings. These are techniques centred on the strategy of therapy within the office.
Psynapse also offers a complete course in Sophrology.
Psynapse also teaches Sex Therapy with Alain Héril, a leading writer and sex therapist working on the fields of female sexuality, male sexuality and dysfunctions in relationships
Compare the added value of specializations in Hypnosis or NLP (Neuro-Linguistic Programming) that schools offer. Within Psynapse we offer the following specializations:
Weight Loss and Quitting Smoking hypnosis training (Prerequisite Ericksonian Hypnosis or NLP Practitioner)
Hypnosis Training for Children (Prerequisite Ericksonian Hypnosis Practitioner)
Training Hypnotic Gastric Banding (Prerequisite Ericksonian Hypnosis Practitioner)
DNR or Deep Neural Repatterning (Prerequisite NLP Practitioner)
Neuro-hypnosis and Hypno-coaching Trainings
Sophrology and relaxation trainings etc. …
Higher levels with:
Hypnosis Master Practitioner or NLP Master Practitioner Trainings
Hypnosis and NLP Trainer trainings.